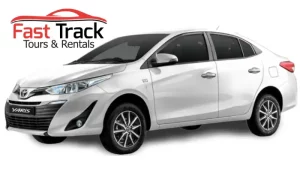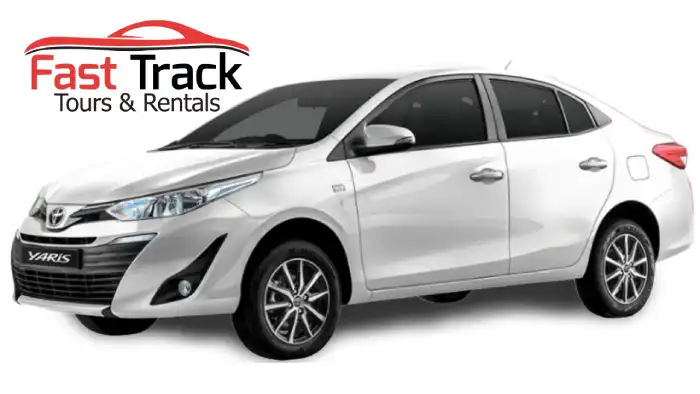 Car For Rent Toyota Yaris
Fast Track Tours & Rentals provides high-quality car rentals in Pakistan. With over a decade of experience, we understand what customers want from us and how to meet those expectations. We have special packages for our foreign Pakistanis, including self-driven automobile rental, which is extremely uncommon in Pakistan. We offer Rent a Car service on a Daily, Weekly and monthly basis.
We never skimp on fleet maintenance, which is appreciated by thousands of our loyal clients. Our fleet is based on new models, which is a huge relief for our valued customers. Our firm policy is to replace all fleet vehicles every three years with brand new automobiles.
We offer car rental services both with and without a driver. Initially, we only did business with drivers, but on numerous occasions, customers asked to Rent a Car Without a Driver. We realised that some of our overseas and local customers have privacy concerns and want to rent a car without a driver. After a lengthy discussion with management, we decided to open a quota of 30% of our fleet on self-drive, which is specifically dedicated to our overseas Pakistanis.
We have a variety of Cars, Jeeps, Hiace, and Coasters available on rent like Toyota Corolla Gli, Toyota Yaris, Toyota Corolla Altis, Toyota Corolla Grandi, Honda Civic, Honda BR-V, MG HS, Toyota Fortuner, Land Cruiser Prado, Land Cruiser V8, Toyota Hiace Grand Cabin, Toyota Sloon Coaster 4C, 5C etc
We are operating in all Pakistan we have our main office in Lahore, Phase 2, DHA.