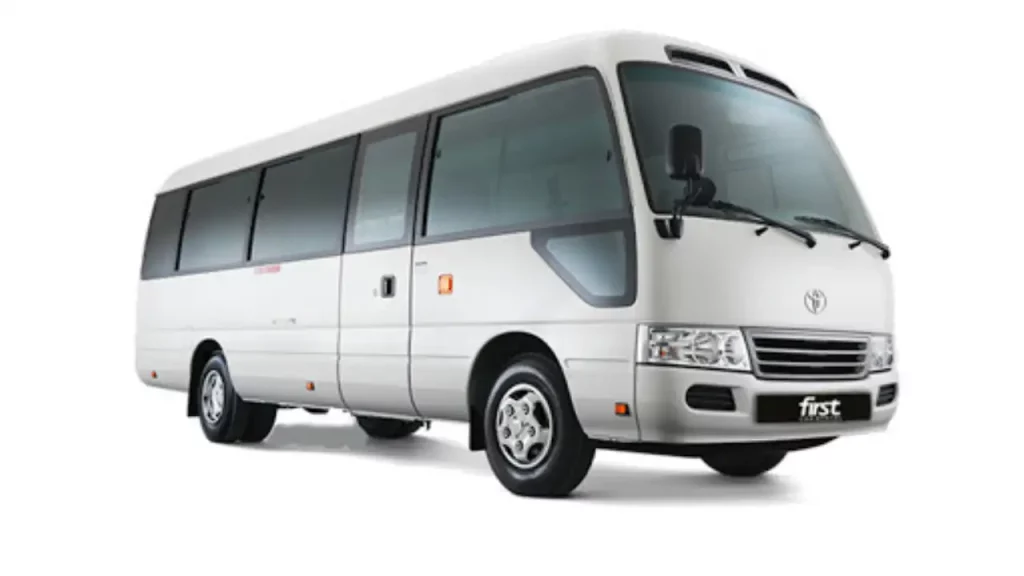 Vans/Coaster Services
Family trips are the luxury of life. There are only few special moments when all family gathers to rejoice. However, your current car cannot fit in with the whole family. Also, you cannot mortgage your privacy. There is no need to worry about. Rent a Toyota coaster or a Hiace and enjoy your trip. With them, you can go any where. You can enjoy the reception party with our transport vehicles or you can arrange a multi-purpose recreational tour to the tourists attractions within Pakistan
Van And Coster Rates Without Fuel
| Vehicle Type : | Per Day Rent | Per Week Rent | Per Month Rent |
| --- | --- | --- | --- |
| Toyota Grand Cabin 2017-2019 | Rs 6000 | Rs 38,500 | Rs 140,000 |
| Toyota Coaster | Rs 9,000 | Rs 63,000 | Rs 240,000 |
We Offer A Variety Of  Car
We offer Toyota luxury coaster with comfortable seating and ac.
We offer Hiace for a small family tour. All our cars are furnished, comfortable and in order. Come to our place and decide your self. However, for another requirements such as water, Refreshment etc., you would be requiring to order separately.
Outstation And Within City Rates
We offer both within and out station tours. Within city tours, you will be charged a bit less than the outstation tours.
However, the difference is not much. In fact, the punctuality and your privacy is assured during such visits.
Daily And Weekly Rate Sheets
We only provide daily and weekly services in the coaster renting facility. The daily offer includes 12 hours of services within city or out station. Similarly, there are hourly basis services for weekly offer. For late hours and extra fuel consumptions, you would not be negotiated.
For drivers, helpers and other services, you need to contact us separately.
Difference Between Lahore And Islamabad Rates
However, there are differences in the rates of Lahore and Islamabad. The reason is the geographical planes, rate of toll taxes and heavy traffic roads of the city. Moreover , the distance to one location is comparatively longer in small cities. However, the difference in rates would not hamper your comfort level. We provide same facilities either you are in Lahore or Islamabad. The reasons are not company- made but are conditioned by the government.